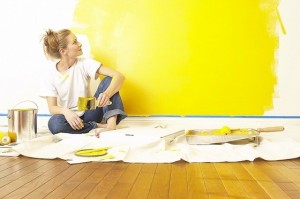 Many homeowners like taking the do-it-yourself approach when it comes to painting. They do this mainly to cut the costs and just for fun. However, if you use the wrong techniques, your paint job may look shoddy and not last long! So, how do you make a DIY project look more professional?
Here are some proven painting tips:
1. Tape the Floor Edges
The best way to give your paint job an amateur look is to leave paint drippings near the areas where the walls meet the floor, especially when you can easily avoid such spills. To avoid this mess, you should always lay a covering or plastic on the floor and tape its edges down. You should do this before starting the task.
2. Always Prime
Many people do not use a primer when painting their walls with a light colour. However, primer plays more than one role. A coat of primer can hold your wall paint together for longer. Besides, it helps to apply the paint evenly across the doors and walls.
3. Select the right tools
Small rollers and paint trays are for starters. To make your painting look professional, use a large bucket (at least 5 gallons) and a metallic bucket grid. This will allow the grid to snap on the bucket, making it easy for you to get paint to the roller. This avoids any spills and ensures you do not get the excess paint to your roller.
4. Roll from left to right and top to bottom
This is the secret to ensuring that your walls do not contain weird paint-lines or streaks. Exert more pressure to your paint roller's unsupported side and then tilt that side slightly towards the left. This is the best way to avoid roller tracks too.