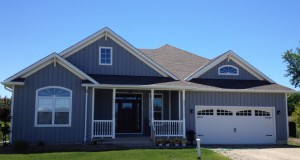 When planning to put your house for sale, it is good to know that buyers look at other aspects besides the location and size of the house. Of course, everyone wants a securely built and well maintained home. However, other aspects, such a paint job, can make or break the deal. A poor exterior may repel buyers from eyeing your home and so is an interior with unattractive colour schemes.
The Exterior
When potential buyers visit your home, the first thing they will see is the exterior of the house. Even if you painted your home recently, chipped paint or a crack in the wall can scare away possible buyers. To make a great impression, let the colours of your house complement well with the architectural features and also fit in properly with the entire neighbourhood.
The most popular colours to use on home exteriors are beige, gray, tan, sand, and taupe, if you have an older home, you should try to maintain the original look. If your home has a country or cottage style, then paint colours such as maize yellow, sage green or moss green will look fantastic with white trimmings. Moreover, be sure to include the fence, deck and steps.
The Interior
When it comes to home interiors, buyers prefer well-lit spaces full of natural light. Therefore, neutral, light tones will be a good choice though you do not want your house to have a plain look. So, try to avoid pure white. In addition, you may paint every room with a different colour to create appeal and variety though, ensure you stay in the same family of colours. An ideal choice would be a light scheme that contains a few bold colours for the trimmings.
A room that is less exposed to sunlight should have a light painting colour like off-white, pale yellow or light beige. This will make it an impression of more light. Lastly, remember to trim the closets and ceiling too.