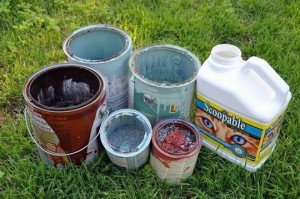 If you would like to dispose of your paint properly, then you have to do it in a way that will not be harmful to the environment. This means you cannot toss a can containing paint into trash. Here are safe and responsible ways of disposing of painting depending on its type. Disposing of acrylic, latex, or water-based paints, requires that you follow these guidelines.
Use It Up
Estimate well and purchase only a number of cans required before starting the paint project. That way, you will cut the costs so you don't need to find out ways of disposing of the extra paint. You can estimate one paint gallon to cover 250 to 350 square feet. This depends on the number of coats and condition of walls to be painted. When any paint is left in the can, you can simply use it to paint a shelf or a table. At times, you may need to cover the underside of the project and here is where leftovers come in handy. You can combine small amounts of paint with other shades if the paint coat, rather than colour, is central.
Pass It On
Recycling is a great way to dispose of your paint. Theatre groups, community groups, neighbours or schools can gladly accept any leftover paint. Typically, local recycling centres have room where they keep partially full and non-rusted paint cans.
Dry It Up
If you choose to dispose of any paint in the trash, ensure it is hardened or dried. If the can contains a small amount of paint (below a quarter full), you should simply remove the lid and let it stay in a well-ventilated area for some days. However, the best way to dry fuller paint cans is by adding kitty litter, mulch, paint hardener or shredded paper. After removing the lid, you can dispose of the dry paint according to the regulations of the municipality.