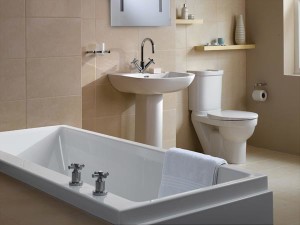 Painting Bathroom? Have you been living with the same bathroom décor for the last so many years which is now turning monotonous to you? Well, it could just be time for you to repaint the tiles in your wash room. The good news is that you do not have to go through the hassles of retiling, you can actually get a whole new look by repainting your bathroom tiles.
This is very achievable and which will leave your bathroom looking super. If you want to do a professional job, you have to do some good amount of planning. You will start by scrubbing the tiles thoroughly. You can use sugar soap or any other good cleaning product. Use a solution to clean areas that have moulds and mildew. For grouted areas, make use of an old tooth brush.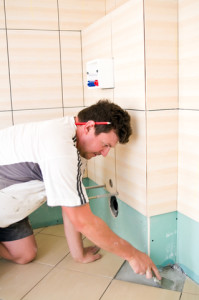 Do not try to repaint tiles while they are wet, they have to dry first. The best time to undertake this project is late spring or early summer when the air is not as hot and there are no rains. Start by painting the grouted areas and you can achieve this by using a medium paint brush. In case you do not want to paint the grout, you can use a film of automotive tape to cover it so that paint does not splash over it.
Foam paint rollers are the best for painting tiles. To ensure there is even coverage, paint from top to bottom and from side to side. Normally, a second coat will be in order for the work to look superb. Make sure that you give the first coat sufficient time to dry up before applying the second coat. On the choice of colours, there are enough experts that should help you make the right of choice. You only to ensure that you get something that will appeal to you.