Painting your floor is a bright home makeover idea that will leave your floor looking pleasant. Concrete floors are especially worth giving keen consideration in so far as painting is concerned as they might look quite unsightly if left plain. For you to achieve a good looking floor, you have to choose the right kind of paint. If you choose the wrong paint, you will end up with cracked and chipped surfaces that will appear worse.
For concrete floors, using water based paints is not a good idea as these do not adhere well to the surface. Paint experts will advise you to make use of oil based paints. Epoxy paints for concrete surfaces are also a good idea and these must be applied by professionals. For basement concrete floors, use concrete stain. It is very easy to apply.
When it comes to floor painting colours, there are a number of options available to you. Make use of decorative paints if you have opted for epoxy. You can find them available for different types of finishes including marble, mosaic tile, and granite. If two shades are to be used, go for the high gloss paints with dual tone. Some of the best colours for painting con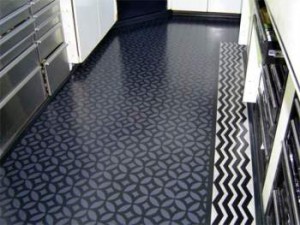 crete floors include gray, black, chocolate, dark purple and grapevine.
If you want to complement your décor, you can use shades of olive green, red, purple, ochre, and beige. For basement floors, you have to make use of lighter shades. If you are however going for decorative options, darker shades are your best bet. While at it, you need to ensure that the best commercial sealers are used in order to protect the floor. Some of these will even make your floor waterproof if that is how you like it. Go for skid resistant options instead of glossy paints to avoiding skidding.