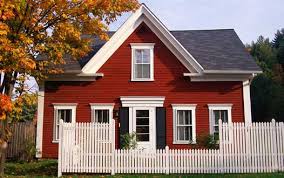 The weather adversely affects the look of your home. An exterior paint job is always a good way to ensure your home does not look dull due to extreme weather affecting your exterior paint. Cleaning up the outside of your home, sealing and exterior painting is a great way to prevent moisture and pollution to infiltrate a home.
This also increases the value of your house as well as being environmental friendly. The outer seal of a home reduces the effectiveness of insulation and prevents moisture from seeping in. Sometimes the paint chosen will give the structure a dull and boring look. A building made of solid concrete is susceptible to absorbing water and moisture after being exposed to the natural elements.
The constant absorption of water will make the walls crack. An outer coating of paint will actually turn out to be weather proofing. This kind of paint provides an outer layer of protection and seals all the cracks so that moisture does not penetrate through the walls. Another layer of paint can be added once this paint has dried to give it a better attractive look.
Exterior applications will be power washed and treated before any paint is applied. Primer is applied on all the necessary surfaces. The paint of your home always gives an impression and the best impression is imperative. The attention to details will make a big difference even if it is on the outside of your home. Excellent Painters have broad experience.
More than just paint is brought to the job. The surface is first washed to remove loose paint, dirt or pollen. Cracks in the old paint are also sealed to prevent them from affecting the look of the new paint. The services offered are power washing, epoxy coatings, surface restoration, exterior surface painting on wood, metal, aluminum or vinyl siding and also concrete staining.