Painting a door can be a very arduous task especially if you have to climb heights using ladders or paint many rooms in your home. The gist of painting however is that you get an opportunity to express your personality through the use of colour and you can make a good memory of the experience. Here are some helpful tips for you to consider when looking forward to paint your front door.
First you need to choose the right colour. Make it experimental first before coming up with an ultimate choice. How about taking a few paint swatches with you and taping them on the door that you want to paint. Evaluate how complementary the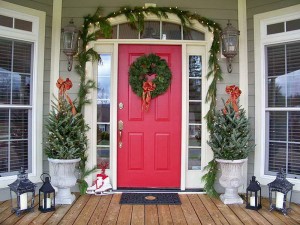 colour is to the surrounding area. How will the colour appear through the different seasons? If you want a bright accent on your front door, you probably want to experiment with a colour like yellow. Try different colour to see which one impresses you most.
The kind of finish you choose also matters a lot. Many paints come in matte finish, semi-gloss, gloss and satin. You do not have to be an expert to know all these. You could check out these finishes on the internet or even visit your home improvement store and do check these out. Flat finish for instance does not reflect light while gloss is quite shiny. Semi-gloss and gloss finishes can be easily cleaned.
Once you have settled on the colour and the finish, you need to embark on the process of painting which involves cleaning and wiping to remove dirt and debris that may interfere with the quality. If you intend to do a lighter colour, making use of a primer will be most helpful to you. Make use of tapes to cover areas you do not want painted then go right ahead and paint. If you have the means, you could hire the services of an expert painter for a better job.