Looking for efficient and friendly home painters in Brisbane? Then give us a call. Our company is 100% confident that we can provide the best service in the area.
Our dedicated team have a flawless track record and we have a long list of happy clients.
We undertake all types of tasks no matter how big or small. Our projects vary in size from painting a laundry, house interiors and exteriors or whole office blocks. We cater for all size jobs.
Our multi talented team provide the following services:
Interior and exterior painting
Floor epoxy coating
Spray painting
Pressure washing
Water damage repair
Hardwood refinishing
Drywall repair
Basic Carpentry
Deck staining/painting
Cabinet restoration
Lead removal
Wallpapering
Colour selection & design
One of the areas that we specialise in is helping with design and colours. We get calls from customers wanting to give their home or work place a new look but don't know where to start. We have painted gyms, kindergartens, shops, family restaurants and nurseries and each job requires a different design. There are so many options to chose from and here are just a few options to give you home, office or work place a unique look:
Patterns & Wall Graphics

Another way to customise a room is the use of wall graphics and patterns. When people thing of paint, they usually think one flat colour and maybe a feature wall but with graphics and patterns your imagination can run wild. Here a just a few options:
Wall graphics
Wall graphics can by applied over the top of freshly painted walls. Wall graphics have been very popular in restaurants and children's room and companies wanting their logo to appear on the wall in their reception area. By choosing a graphic or image that you like, this will give you a customized look that is unique and caters specifically to your taste. To apply the graphic, one of specialist painters will trace the image design and then paint directly on to the wall.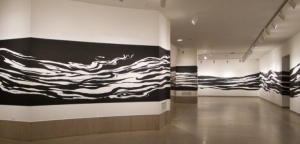 Squares
Square designs are not just limited to uniform checkerboard designs and can be an abstract or uniform design, large or small or a combination of both. When painting squares, there is the need to ensure that the corners are perfect right angles and the chosen pattern has the exact spacing. Square patterns painted correctly are very striking but just one square that is out of alignment can draw attention for all the wrong reasons.
You will can either use two contrasting colours or make the pattern subtle with the use of two colours that with similar shades.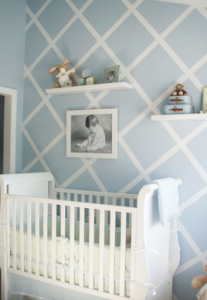 Circles or dots
Similar to above, dots and circles can achieve amazing visual designs. Dots can large or tiny, could be the same size of varying sizes or a combination of both. They can be uniform or used to create a specific effect. When painting your dots or circles they do need to be perfectly round, as only a few that are an not quite round will be noticeable.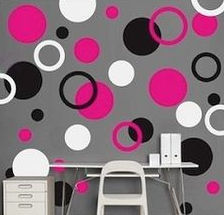 Diamond pattern
Decide on the size of the diamond pattern, just as the squares and the dots, there is no limit to the visual that can be created. The diamond can be an outline or filled in, large or small, bold or subtle or even a overlapped pattern on a feature wall.
Stripes
With stripes there is the choice of vertical horizontal or diagonal stripes. The horizontal ones will make your room appear spacious as the vertical ones give the impression of a higher ceiling and diagonal strips can add a unique visual effect.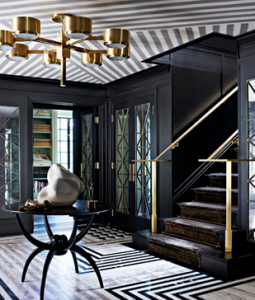 The distance between the stripes is your choice however the lines need to stay completely parallel to each other to achieve an effective stripe pattern. An experienced painter will have all the tools and tricks to ensure your stripes look like stripes and not uneven lines.
These are just a very few of the manyt effects that can be applied to your home or business. Call us to discuss your decorative painting options. You will not be dissapointed.